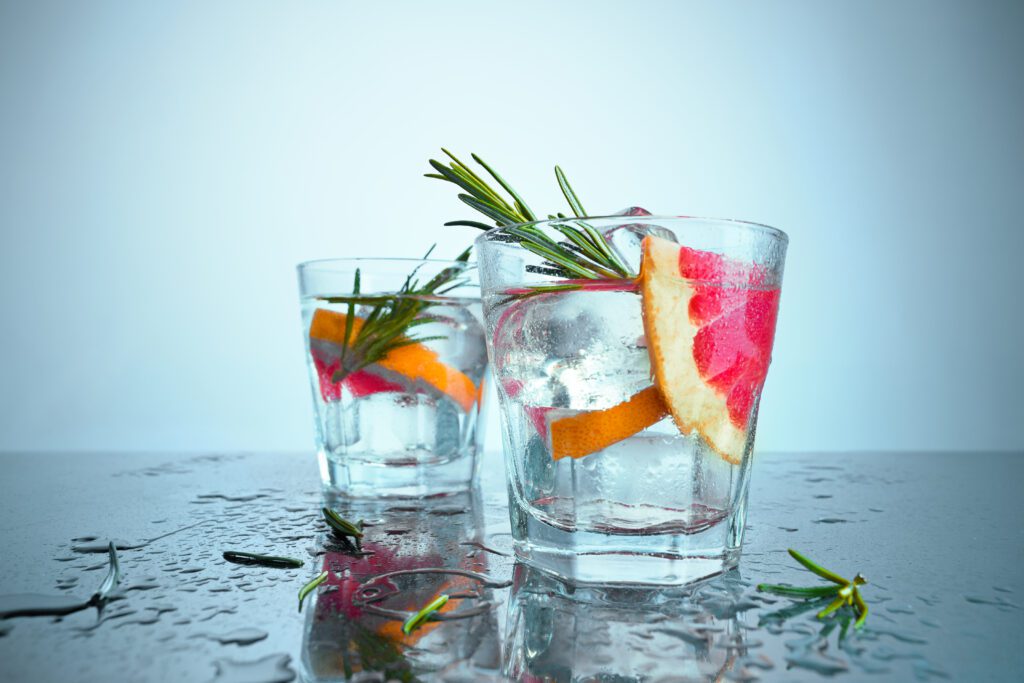 There is a good reason why vodka is so widely used to make beverages. It's like a clean slate that blends beautifully with almost everything. We'll explain why people enjoy vodka beverages so much in this blog post. With the help of five delicious, easy vodka drinks & recipes, we're here to make your cocktail travels simple and enjoyable. We have something delightful for everyone, whether you're an expert mixologist or just getting started. Prepare for some great vodka drinks by getting ready now!
The Essential Ingredients and Vodka Selection
You need to understand a few basics to start creating excellent vodka drinks:
Ingredients → The star of the show is vodka. It's a transparent spirit that varies in flavor and quality. Pick a vodka that you like to sip on its own because it will meld into your cocktails.
Juices and mixers → These give your drinks taste and harmony. Soda, tonic water, fruit juices (such as orange, cranberry, or pineapple), and simple syrup (a sugar-water mixture) are examples of common mixers.
Garnishes → These enhance the appearance and flavor of your beverages. Consider olives, maraschino cherries, lemon or lime wedges, or even herbs like mint or basil.
Ice → Crucial for cooling and adjusting the strength of your drinks. Think about keeping ice in both cubes and crushed form on hand.
Tools → Standard equipment consists of a cocktail shaker, jigger (for accurate measuring), strainer, and stirring spoon. Additionally, you'll need glassware made for your beverages (such as highball glasses and martini glasses).
Selecting the Best Vodka for Easy Vodka Drinks
The flavor of your cocktail can be substantially influenced by the quality of your vodka. Here are some reasons why making the right choice is crucial:
Vodkas can have a neutral, somewhat sweet, or spicy flavor. Depending on the kind of drinks you're producing, you have a choice. The best vodka for most drinks is one that has a neutral or light flavor.
For the purest vodka, search for multi-distilled, filtered varieties. As a result, the flavor is smoother and cleaner.
Some companies have a reputation for excellence and reliability. You can uncover reliable options with the aid of research and suggestions.
Remember that while the correct vodka might improve your drinks, your recipes' inventiveness and balance are just as important. Now that you are familiar with the fundamentals, let's explore some amazing and easy vodka drinks and recipes!
Best Easy Vodka Drinks Recipes
Moscow Mule
Vodka, Ginger Beer, and Lime Juice
Ice should be added to a highball glass or copper mule mug. Fill the mug with fine ginger beer (such as Fever-Tree, Q Mixers, or Reed's) and 1.5 to 2 oz of vodka over the ice. Garnish the beverage with a lime wheel or wedge after adding a lime wedge. To make it even more pleasant, add a sprig of fresh mint!
Cosmopolitan
Vodka, Cranberry Juice, Triple Sec, and Lime Juice
The Cosmopolitan is a more sophisticated vodka cocktail. You'll also need 3/4 oz of triple sec, and an orange liqueur, in addition to 2 oz of vodka, 3/4 oz of cranberry juice, and 3/4 oz of lime juice. The best Cosmo I've ever had has tasted like Cointreau. Everything should be combined in a cocktail shaker with ice that is three-quarters full. Shake the mixture until it is cooled, then strain it into a martini glass. Add an orange or lime wheel as a garnish.
White Russian
Vodka, Coffee Liqueur, Cream
For fans of vodka and coffee alike, this traditional dessert cocktail is a great treat. 1.5 to 2 ounces of vodka, 1 ounce of coffee liqueur, and 1/2 to 1 ounce of heavy cream should be mixed together. I include a range of measures since some people prefer a stronger, more vodka-forward beverage while others prefer a coffee ice cream-like flavor. Yum!
One ounce of vodka, one ounce of coffee liqueur, and half an ounce of lightly beaten heavy cream might also be used. Although it may be more of a dessert than a cocktail, it makes for the ideal after-dinner drink over the holiday season.
Bloody Mary
Vodka, Tomato Juice, Lemon Juice, Seasonings
Although modern variations are more well-known for their extravagance, the original Bloody Mary is a straightforward drink made with just two ingredients that date back to Paris in the 1920s. The combination of tomato juice and vodka makes for a decent drink, but almost everyone can agree that seasonings and a tasty tomato-vegetable juice blend improve it significantly.
2 ounces of vodka, 1/2 ounce of lemon juice, and 4–6 ounces of tomato or vegetable juice should be mixed together. Add seasonings like cayenne, Worcestershire, spicy sauce, horseradish, and pickle juice along with salt, pepper, and other spices and sauces. Add lots of garnishes, such as a celery stalk, pickled veggies, olives, and possibly a few fried chicken wings!
Vodka Gimlet
Vodka, Lime Juice, and Simple Syrup
Gin is the traditional ingredient in a Gimlet, but today, vodka gimlets are equally as popular, if not more so! Shake 2 ounces of vodka, 3/4 ounce of fresh lime juice, and 3/4 ounce of simple syrup to make this simple zesty cocktail. Place a lime wheel on top of the cocktail after straining it into a cocktail glass. Use lime cordial to make a traditional-style Gimlet. Rose's Lime Cordial and 2 parts vodka should be shaken together.
Now, it's your turn to get creative in the world of mixology! We invite you to try these recipes experiment with your variations and create outstanding and easy vodka drinks. The beauty of cocktails is that you can tailor them to your taste, so don't hesitate to explore new flavors and combinations. And for the utmost convenience, remember that you can easily find the essential vodka products delivered straight to your doorstep through J&J Alcohol Delivery 24 7 hour alcohol delivery!