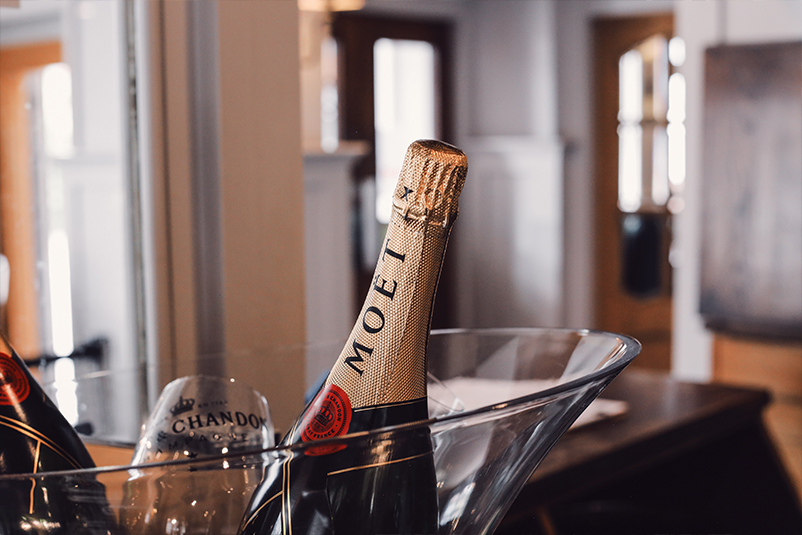 Moët & Chandon has swiftly established itself as one of the most recognizable names in luxury champagne. With over 300 years of history, the French champagne house is the largest in the world, producing approximately 30 million bottles every year.
The House's most popular champagne is without a doubt the Moët Imperial, a sparkling, fruity wine known for its sensuous taste and unmistakable maturity. Its sleek, full profile symbolizes Moët & Chandon's ideals.
The first thing you should know about this prestigious champagne is how to say it. Moët is one of the most often misspelled alcohol names. To avoid humiliation the next time you go shopping for champagne in-store, let's get this straight: the drink is pronounced: "mo-wet."
The first syllable is pronounced just as if you were mowing your grass. The second syllable is pronounced similarly to the word "wet," as if you were describing a moist surface. No, the "t" in "Moët" is not silent.
In the 1400s, the Moët family emigrated to France from the Netherlands. In France at the time, dropping consonant sounds from your name was a trendy practice. The Moët family, on the other hand, elected to keep the "t" in their name, pronouncing it as it was intended.
This vintage beverage is not your typical champagne. Its cultural presence and makeup have been preserved for millennia. Simply, Moët & Chandon is intended for real champagne connoisseurs. Continue checking our website to find more best-selling alcohols.
Moët And Chandon's Origin
The Moët & Chandon House's history begins in 1445, when King Charles VII of France appointed two brothers, Jean and Nicolas Moët, as noblemen. This position provided their family with financial prospects that most families did not have.
In 1743, Claude Moët, a descendant of Jean and Nicolas, took advantage of this situation by establishing the family's first wine trading region in Épernay, known as Maison Moët.
Following Claude, Jean-Rémy Moët, his grandson, continued to proMoëte the family name. Victor Moët, his son, took over in 1832 and joined with his brother-in-law, Pierre-Gabriel Chandon de Briailles. Moët Imperial champagne was made a few decades later.
Victor and Pierre-Gabriel worked together to build a foothold in Napa Valley. The brand subsequently moved to the now-famous Moët & Chandon moniker in 1973.
Notably, the Moët & Chandon House contributed to the practice of "popping champagne" in 1967, when professional driver Dan Turney was presented with a bottle of the House's champagne after winning the 24-hour Le Mans race. After winning, he cracked open the bottle and began spraying the contents over himself and the audience. This is the first time somebody has been seen cracking open a bottle of champagne and spraying it on others.
How Is Champagne Made?
Moët Impérial is made from three champagne grapes: Pinot Noir, Chardonnay, and Pinot Meunier. Unlike most of its rivals, however, grapes for Moët Impérial are sourced from innumerable parcels spread throughout hundreds of towns in the Champagne area. This region is rich in limestones and has large amounts of land dedicated to these grapes.
The majority of wines are created from grapes harvested from the same vineyard. But it is the diverse list of ingredients that distinguishes Moët Impérial. To develop that iconic Moët flavor, grapes must be collected from a variety of vineyards and blended smoothly by professional palate makers. Creating this trademark cocktail is certainly an art form.
Brut Imperial, a non-vintage cuvée, is the most prevalent form of Moët Imperial. This champagne is created from more than a hundred distinct wines. A quarter of these wines are reserve wines, which have been aged at a winery for several years before being combined.
These wines are made from the three previously listed grapes. Before being sold, Brut Imperial is matured for 24 months.
How Brut Imperial Smells And Tastes
Brut Imperial has a rather robust flavor, distinguished by its strong, peppery flavor combined with its sweet counterpart. It has a dry yet silky texture and a lemon-yellow tint with gold and amber overtones. It has a unique and attractive appearance. Many non-vintage cuvées have a weak, green-yellow hue, whereas Brut Imperial appears considerably more upscale.
When you take a sip of the drink, you'll notice the textured, soft fruit combined with the mature, nutty flavor. In terms of scent, Brut Imperial features a cinnamon and hazelnut aroma, as well as lemon and apricot smells.
Some people compare the aroma of Brut Imperial to that of cooked products like French toast or freshly made bread. This superb combination of fragrances is without a doubt one of the drink's most tempting aspects.
When you take a sip of the drink, you'll notice the textured, soft fruit combined with the mature, nutty flavor. In terms of scent, Brut Imperial features a cinnamon and hazelnut aroma, as well as lemon and apricot smells.