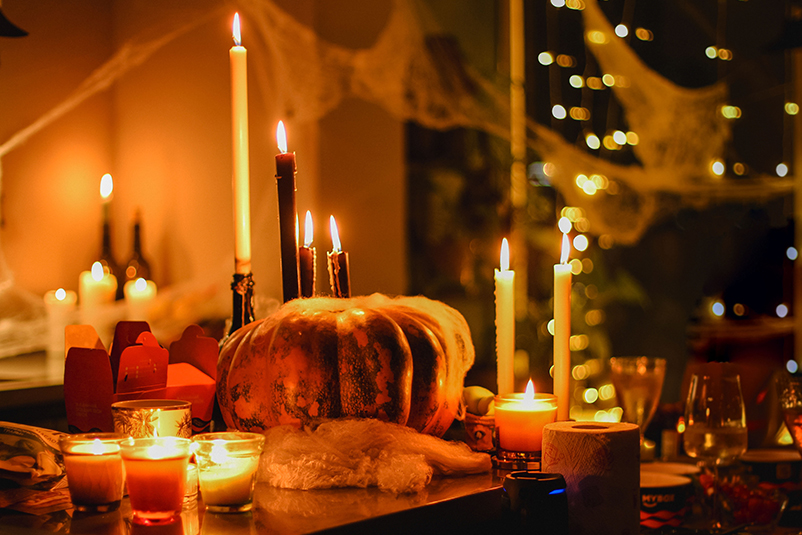 Look no further for these simple and tasty Halloween cocktails and beverages! We are here for every Halloween party alcohol delivery.
We offer something for everyone, from frightening cocktails to kid-friendly beverages. So be ready to party in style with these festive dishes!
1. Martini Candy Corn
Candy corn is a famous Halloween beverage that you either love or despise. There is no middle ground. While we can all agree that candy corn martinis are a delightful way to savor this festive delicacy, they aren't the healthiest option available. But it is Halloween! A small amount of candy corn is permitted.
So, precisely what is a candy corn martini? It's a martini prepared with vodka, Triple Sec, cream, and crushed candy corn on the rim. The end product is a festive, sweet, and somewhat alcoholic drink that's ideal for sipping before a night of Halloween fun. Order Vodka here for your Halloween party alcohol delivery.
2. Witch's Brew Punch
A witch's brew punch is an alcoholic beverage created with a number of different spirits, mixers, and other components. It is supposed to be especially strong and is frequently connected with Halloween or other eerie occasions.
The punch can be served in several ways, including over ice, straight up, or blended with other beverages. Witch's brew punch is often created with a combination of alcohol, including vodka, rum, whiskey, and tequila.
It is frequently sweetened and flavored with fruit juices or soda. Cinnamon, nutmeg, cloves, ice cream, and sweets are all possible additions. The punch can be served with or without ice, straight up, or blended with other beverages. It is frequently adorned with eerie embellishments such as plastic spiders or skeletons.
3. Spiderweb Martini
Spiderweb martinis are a favorite Halloween beverage at gatherings. They're created with vodka, dry vermouth, and orange juice, and they come with a spiderweb-shaped slice of orange peel as a garnish.
Spiderweb martinis are a colorful and exciting way to spend Halloween with friends. They're simple to prepare and always a crowd-pleaser. Make sure you have plenty of spiderweb garnishes on hand since they'll be a great hit with your visitors. Order Vodka here for your Halloween party alcohol delivery.
4. Haunted House Punch
Haunted House Punch is an alcoholic beverage created using a combination of spirits and liqueurs. It is reported to be quite powerful and might occasionally be too much for certain individuals.
The drink is generally served in a punch bowl and adorned with Halloween-themed things like skeletons or ghosts. Haunted House Punch is not for the faint of heart and should be consumed with caution.
5. Frankenstein punch
The Frankenstein punch is a lethal uppercut that may be utilized in both boxing and mixed martial arts. This blow is delivered with such ferocity that it frequently results in a knockdown. Frankenstein's punch takes its name from the character's disastrous effort to create life.
The name of the figure was subsequently popularized by the novel Mary Shelley. Because of its potency, the Frankenstein punch is frequently utilized as a surprise strike, for your Halloween party alcohol delivery. It is usually launched as a counterpunch or as a follow-up to another blow, rather than as the initial punch in a fight. When utilized correctly, the Frankenstein punch may be a powerful blow that can rapidly terminate a battle.
6. Zombie Apocalypse punch
The Zombie Apocalypse Punch is a potent, stimulating beverage that can help you survive the zombie apocalypse. It is manufactured from a natural component combination that will provide you with the energy and stamina you need to fend against zombies and other enemies. This drink is ideal for individuals who wish to be prepared for everything that may arise.
The Zombie Apocalypse Punch is an excellent method to remain hydrated and energized throughout the long days of fighting zombies. It's also a terrific way to have a tasty, refreshing drink while you wait for the sun to rise again. The Zombie Apocalypse Punch is ideal for anyone who wants to be prepared for the zombie apocalypse.
7. Bloody Mary
The Bloody Mary cocktail is a popular drink mixed with vodka, tomato juice, and additional seasonings. It's usually served with a celery stalk or a slice of lemon. Bloody Marys are popular brunch drinks or hangover cures. There are several Bloody Mary variants, but the core components stay the same.
Vodka is the most commonly used liquor, however, gin, tequila, and rum can all be utilized. Replace the tomato juice with another juice, such as cranberry or orange. Other frequent Bloody Mary ingredients include Worcestershire sauce, spicy sauce, horseradish, and celery salt.
8. Black Magic Martini
The Black Magic Martini, composed of vodka, coffee liqueur, and orange juice, is one of the most popular Halloween cocktails. It is reported to have started in the early 2000s and has since become a popular drink at numerous pubs and clubs around the country.
The cocktail is named for its dark, enigmatic look, and it is frequently topped with an orange peel to lend a sense of refinement. The Black Magic Martini is a delightful and refreshing cocktail that is appropriate for any occasion. This drink is likely to delight whether you are searching for a romantic night out or simply want to relax with friends.
9. Poison Apple Martini
A Halloween-themed beverage created with vodka, green apple liqueur, and cranberry juice, the Poison Apple Martini. It is usually topped with a green apple slice or a candied apple. This eerie drink is ideal for sipping while getting ready for a night of Halloween revelry.
The vodka's and green apple liqueur's powerful tastes are balanced by the sweetness of the cranberry juice, creating a well-balanced cocktail. The green apple garnish, of course, adds a bit of Halloween whimsy.
10. Witch's Brew Sangria
Witch's Brew Sangria is a strong concoction of wine, fruit, and spices that will cast a spell on you! These eerie Halloween drinks are ideal for Halloween parties or any other frightful occasion.
This sangria, made with red wine, orange juice, lemon juice, brandy, and a variety of seasonal spices, is guaranteed to please your visitors. For an added festive touch, serve it in a cauldron or punch bowl. Order Wine here for your Halloween party alcohol delivery.
11. Spider web Shot
A Spider web Shot is a shot of alcohol mixed with cranberry juice and a splash of grenadine. The drink is often served in a shot glass and drunk rapidly. The Spider web Shot drink is a popular choice in pubs and nightclubs, and it is frequently requested to kick off the night.
The cocktail is also popular among individuals who want to become intoxicated quickly. The drink's mix of alcohol and cranberry juice may provide a strong buzz. The grenadine in the cocktail can also give the shot a sweet taste.
12. Jack-o'-lantern Julep
The Jack-o'-lantern Julep is a tasty and simple Halloween beverage that is ideal for any Halloween party or fall event.
This holiday cocktail is composed of bourbon, orange liqueur, mint, and pumpkin puree and is served in a carved-out pumpkin. The Jack-o'-lantern Julep is a festive and entertaining way to experience the tastes of autumn.
13. Haunted Hayride punch
This Haunted Hayride punch will certainly do the trick! It's created with orange juice, cranberry juice, and lemon-lime soda and topped with creepy green gummy worms. Just keep an eye on the kids since this punch may carry quite a punch!
14. Mummy's Delight cocktail
Mummy's Delight is a drink made of vodka, rum, Triple Sec, grenadine, and orange juice. It's usually served in a martini glass with an orange slice on top. This drink is claimed to be named after the Mummy, a prominent horror movie figure.
The Mummy's Delight cocktail is a tasty and refreshing drink that is ideal for any occasion. Mummy's Delight is likely to dazzle your visitors or just satisfy your thirst for a refreshing summer beverage.
15. Witch's Brew cocktail
A Witch's Brew beverage is a Halloween-themed drink created of vodka, rum, and tequila. It may also be created with almost any other sort of alcohol, according to your preferences.
The most crucial component of this drink is the green food coloring, which gives it its spooky tint. Other typical components in a Witch's Brew drink include orange juice, lemonade, and cranberry juice. You may add dry ice to your drink to make it even eerier.
Halloween Party Alcohol Delivery
So, whether you're searching for a drink to offer at your Halloween party or something festive and entertaining to sip while handing out candy, we've got you covered, order your alcohol at J&J Alcohol Delivery.
These 15 simple Halloween cocktails and beverages are likely to impress everyone in attendance, regardless of their taste preferences. Make a note of this page and return to it when you're ready to create your own spooktacular event!