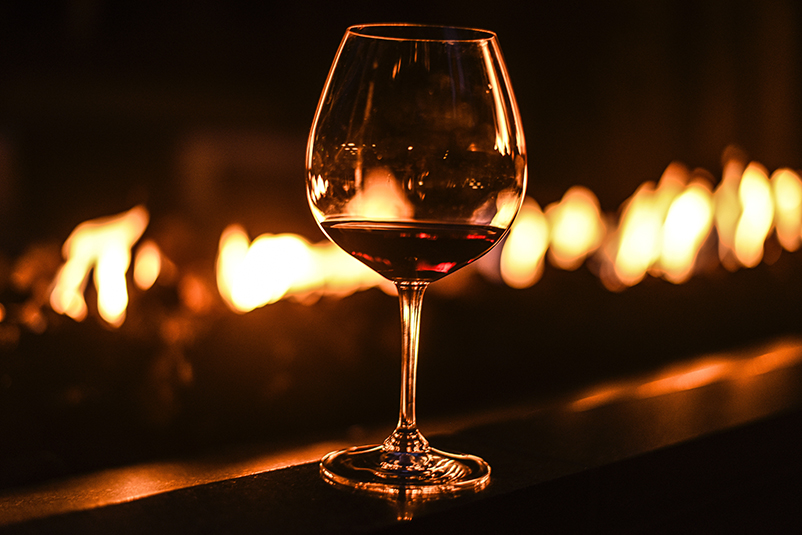 There's no shortage of options for after dinner drinks, whether you're searching for something to help you unwind after a hard day or something to commemorate a particular occasion.
From traditional cocktails to fresh and fashionable combinations, we've got the definitive list of after dinner drinks covered. So sit back, relax, and make one of these delectable recipes for dinner tonight after ordering them at J&J Alcohol Delivery!
10 Best After Dinner Drinks
Amaretto liqueur
One of the most popular after-dinner drinks is amaretto. It's created with almonds and has a sweet, nutty flavor that's excellent for drinking after dinner. Amaretto is typically drunk plain or on the rocks, although it can also be included in cocktails.
Amaretto is a terrific choice for a drink to relax with after dinner or a cocktail to enjoy with friends. There are other brands of amaretto available, but Disaronno is the most well-known.
Disaronno is an Italian liquor that has been produced since 1525. It contains only natural components such as apricot pits, almonds, and vanilla. As a result, the flavor is one-of-a-kind. As a result, the flavor is distinct, sweet, and nutty.
Amaretto is delicious on its own or in cocktails. It's frequently used as a foundation for other beverages, such as the Amaretto Sour. Simply add amaretto, lemon juice, and ice to make an Amaretto Sour.
Irish Cream Baileys
Baileys Irish Cream is an alcoholic beverage created from cream, whiskey, and occasionally chocolate. It's smooth and creamy, with a sweet, somewhat nutty flavor.
Although not strictly a liqueur, it is frequently served as one. Baileys is delicious on its own or in a number of drinks. Desmond and Tom J. Rourke invented Bailey's Irish Cream in 1974. The original recipe called for a combination of cream, whisky, and chocolate to be served as a dessert drink.
The drink, however, quickly gained popularity as an after-dinner drink or as a component in cocktails. Diageo now manufactures Baileys, which is available in a number of tastes including Original, Coffee, Mint Chocolate, and Orange Truffle.
Brandy
Brandy is a distilled wine that is often consumed after a meal. Brandy's rich, full-bodied flavor complements savory foods, making it the ideal digestif. Brandy has also long been used as a medicinal cure, and many people feel it might aid to relieve an upset stomach.
Brandy is traditionally manufactured from grapes, although it can also be created from apricots, pears, or plums. The brandy fermentation process is similar to that of wine, but the alcohol content is higher. Following fermentation, the brandy is distilled to concentrate the flavors and alcohol.
Drambuie
Drambuie is a golden-hued, sweet liqueur created from aged Scotch whiskey, honey, and spices. Its robust flavor makes it an ideal after-dinner drink. Drambuie's origins are supposed to stretch back to the 18th century when it was invented by Bonnie Prince Charlie's bodyguard, John MacKinnon.
The recipe was passed down through the generations before being commercially bottled in 1910. Drambuie tastes best neat or on the rocks. It's also great in cocktails like the Rusty Nail (Drambuie and scotch) and the Royal Scot (Drambuie, scotch, and lemon juice).
Kahlúa
Kahla is best served after dinner. It's the ideal way to end a meal, as well as to rest and unwind before night. Because it is a coffee liqueur, it has a strong coffee flavor and is ideal for sipping on its own or blending into cocktails.
It's also low in alcohol, making it a suitable option for individuals who don't want to drink too much. Because kahla is best served chilled, store it in the fridge until you're ready to drink it.
It's great neat or on the rocks, but it's also a favorite element in cocktails. White Russians, Espresso Martinis, and other cocktails with Kahla are among the most popular.
Sambuca
Sambuca is a traditional Italian liqueur served after supper. It has a sweet, floral flavor and is prepared from an elderflower infusion. It is traditionally served in a tiny glass with coffee beans or sugar cubes at the bottom.
When the liquor is added, the drink is frequently set on fire, producing a theatrical spectacle. After that, the flame is extinguished and the drink is consumed. Sambuca can also be used with coffee or tea to make a unique drink. It is best consumed after a meal to improve digestion.
The sweetness of the liquor makes it a favorite choice for usage in sweets. Sambuca can be used in fruit salads, made into sorbet, or mixed into the cake batter. It's also popular in mixed drinks and cocktails.
Sambuca's sweetness makes it unsuitable for savory foods, although it can be used sparingly to balance out the tastes of a dish.
Maria Tia
Because of its rich, coffee-like flavor, Tia Maria is best served after dinner. Because a little goes a long way, it's ideal for sipping after dinner. It's also a popular liqueur for preparing drinks, such as the traditional espresso martini.
Tia Maria is a fantastic way to conclude your meal, whether you drink it plain or in a mixed drink. Try Tia Maria for a one-of-a-kind after-dinner drink. This coffee-flavored liqueur is ideal for sipping after dinner.
Its rich flavor complements dessert, making it the ideal way to end your dinner gathering. For a truly wonderful experience, serve Tia Maria neat or in a mixed cocktail.
Frangelico
Frangelico is best served after dinner as a digestif to help you unwind. It's a flexible liqueur that can be enjoyed in a variety of ways. Frangelico is an excellent choice for a digestif to help you wind down after dinner or a unique approach to spice up your cocktail game.
This hazelnut liqueur is smooth and sweet with a slight sharpness to keep things interesting. It's delicious on its own or in a cocktail. Try it in an espresso martini for a great treat if you're feeling daring.
The Grand Marnier
Grand Marnier is a French liqueur made from distilled bitter orange and Cognac. It is frequently served as an after-dinner cocktail or digestif. It has a deep, rich flavor that is both sweet and slightly bitter.
It's also fairly strong, with a 40% alcohol concentration by volume. Grand Marnier tastes best neat or on the rocks. It can also be used in drinks and as a dessert element. Grand Marnier Soufflé, for example, is a popular dish that blends the liqueur with egg yolks and whipped cream.
Southern Comfort
Nothing beats Southern Comfort for unwinding after a hard day at work or pleasure. This mellow, bourbon-based liqueur is ideal for winding down, whether served neat or on the rocks.
So, what makes Southern Comfort so delicious after dinner? There are several causes for this. First, the bourbon's deep flavor helps to balance out any residual sweetness from your meal. Second, the herbal overtones in Southern Comfort elevate your after-dinner cocktail to the next level.
Finally, the high strength of this whiskey warms you from within, making it the ideal nightcap on a cold evening.
After dinner cocktails are the ideal way to end a meal and unwind with friends. We have something for everyone, whether you desire something vintage or something fresh.
So put on your favorite sweater, preheat the oven, and prepare for some delectable after-dinner cocktails!